We inform, that MUZIKASINSTRUMENTI.LV use cookies to learn more about the way you interact with our content and help us to improve your experience when visiting our website. By continuing to our webpage you agree with our privacy policy.
DR Strings VTE-10/52 Veritas Med to Hvy Electric Guitar Strings 10-52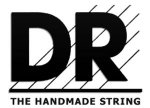 Electric Guitar Strings
DR Veritas Electric Guitar Strings

DR Strings VTE-10/52 Veritas Med to Hvy Electric Guitar Strings 10-52

Medium to Heavy- .010, .013, .017, .030, .044, .052

VERITAS™ Electric Guitar Strings maintain their tone, tuning stability and intonation thanks to our Coated Core Technology™, a process of coating the round core wire, which locks the wrap wire in place and extends string life by protecting the core from corrosion. A Quantum Nickel™ wrap wire delivers more power, brighter tone and greater flexibility and responsiveness. All VERITAS™ sets include both standard plain steel AND Xenon Power-Plain™ strings, which have increased output to balance with the wound strings.
€14.00
In store
Rating
Features
Sound
Quality
Article number: MI-5141
Similar products