We inform, that MUZIKASINSTRUMENTI.LV use cookies to learn more about the way you interact with our content and help us to improve your experience when visiting our website. By continuing to our webpage you agree with our privacy policy.
DR Strings Tite Fit JZ-12 Extra Heavy Electric Guitar Strings 12-52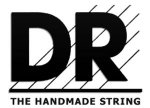 Electric Guitar Strings
DR Electric Guitar Strings

DR Strings Tite Fit JZ-12 Extra Heavy Electric Guitar Strings 12-52

Gauges: .012, .015, .024w, .032, .042, .052

TITE-FIT™ Electric Guitar Strings utilize a nickel-plated steel wrap wire wound on a round core wire to produce a fatter sound. This classic construction makes TITE-FIT™ a great all-around string that works for a range of styles and genres, including Rock, Blues, Metal and Jazz. The use of the finest core and wrap-wire materials ensure this classic design meets modern performance standards.
€10.00
In store
Rating
Features
Sound
Quality
Article number: MI-5134
Similar products