We inform, that MUZIKASINSTRUMENTI.LV use cookies to learn more about the way you interact with our content and help us to improve your experience when visiting our website. By continuing to our webpage you agree with our privacy policy.
DR DSE-10 Dragon Skin Clear Coated Electric Guitar Strings 10-46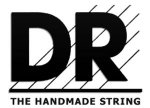 Electric Guitar Strings
DR Dragon Skin Electric Guitar Strings

DR DSE-10 Dragon Skin Clear Coated Electric Guitar Strings 10-46

Medium - .010, .013, .017, .026, .036, .046

Clear Coated Coated Nickel Plated Electric Guitar Strings wound on Round Cores.
The Patented Dragon-Skin K3 Technology Coating from DR Strings makes them the 1st Coated Strings that "sound as good or better than uncoated strings". The Coating is applied to all 6 strings, for Improved Performance and Corrosion Resistance.
€18.00
In store
Rating
Features
Sound
Quality
Article number: MI-5124
Similar products