We inform, that MUZIKASINSTRUMENTI.LV use cookies to learn more about the way you interact with our content and help us to improve your experience when visiting our website. By continuing to our webpage you agree with our privacy policy.
DR Strings RPL-10/12 RARE Phos-Bronze Acoustic 12-String Ex-Lt 10-48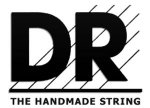 Acoustic Guitar Strings
DR RARE Acoustic Guitar Strings

DR RPL-10/12 RARE - compression wound phosphor bronze on a hexagonal core wire

Extra Light 12-String - .010, .010, .014, .014, .024, .009, .030, .012, .039, .018, .048, .0287

Low tension...the sound is loud and warm.The Rare phosphor bronze acoustic strings are a departure from the standard, good quality bronze string currently available...not necessarily better, but possessing a new, different and stronger "voice". When DR set out to produce a string with new characteristics, our goal was to redesign contemporary thinking about what phosphor bronze can do for a good acoustic guitar. Hand-carved arch-tops, dreadnaughts and good steel string acoustic guitars made of rosewood, maple, and mahogany seem to benefit from a distinct improvement in tone, depth, and sustain with Rare phosphor strings. Players who want a fatter and louder sound, as well as a deeper bottom (who like to hear their guitars ring out) will appreciate the Rare phosphor tone, sound, and feel.
€16.00
In store
Rating
Features
Sound
Quality
Article number: MI-5138
Similar products