We inform, that MUZIKASINSTRUMENTI.LV use cookies to learn more about the way you interact with our content and help us to improve your experience when visiting our website. By continuing to our webpage you agree with our privacy policy.
DR Strings HA-11 80/20 Acoustic Guitar Strings Custom Light 11-50 DR Strings HA-11 80/20 Acoustic Guitar Strings Custom Light 11-50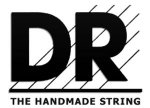 Acoustic Guitar Strings
DR Strings HA-11 80/20 Acoustic Guitar Strings Custom Light 11-50

Gauges: .011 .015 .022 .030 .040 .050

The DR 80/20 strings are designed for bluegrass guitarists, with extra brightness to cut through the ensemble playing. They also provide extra clarity from heavily braced or dull sounding guitars. The 80/20 acoustic strings are hand wound for great tone and longevity, and they're made in the USA.
€11.00
In store
Rating
Features
Sound
Quality
Article number: MI-5120
Similar products